Last updated
Aug 11, 2022
It's no secret that today's job market can fluctuate wildly, but not in all fields, and certainly not when it comes to healthcare administration. According to the U.S. Department of Labor's Occupational Outlook Handbook, for example, employment of medical and health services managers in the U.S. is projected to grow 32% between 2019 and 2029. That's eight times the projected growth rate for all occupations combined. Fueling this increased need for quality health services is the ever-growing population of aging baby boomers who are focused on staying active and living longer.
The high job demand for qualified healthcare administrators also fuels the popularity of healthcare administration degree programs, including those for doctor of healthcare administration degrees. If you're thinking about going after a DHA degree and moving into a top-tier healthcare administration career, there are several questions to answer, including:
Is earning a DHA degree necessary? Can I earn my DHA online? Will my online DHA program provide me with the high-quality education I need to succeed in my profession?
Answering these and other important questions is what this guide is all about. Below you'll find information on the best online DHA degree programs currently offered. You'll also find helpful advice on what to look for in an online DHA program, how to pay for your degree, and much more.
Best Online DHA Programs for 2022
Your decision on which DHA program is right for you should take into account a number of factors based on personal goals and preferences such as which course format is best for your learning style and should you choose part-time or full-time study. There are also several requirements that any program should meet regardless of personal interests. These include convenience, affordability, program comprehensiveness, and proper accreditation.
Central Michigan University's Doctor of Health Administration is the perfect fit for students who are passionate about health care leadership and are excited at the opportunity to collaborate to solve the real-world health care challenges facing clinicians and administrators alike. This DHA program is in a cohort format, so students work and research alongside a tight-knit group of senior-level managers who represent a variety of healthcare leadership experiences, disciplines, and institutions. As collaboration and management process skills are as important as content-based learning, this program is particularly well-equipped to advance skills in each domain to help propel students towards the apex of their careers as health care administrators. DHA students should be motivated by the prospect of reporting new findings in the healthcare field, which they will demonstrate through a comprehensive exam and applied research dissertation to earn their degree.
Doctor of Health Administration
Credits: 63
Cost: $828 per credit hour ($1010 for international students)
Length: 3 or 5 years
Mode: Online with six in-person intensive three-day seminars
Academic
CounselingYes
Career
PlacementYes
Student/
Faculty Ratio18/1
Inside Look at Top Online DHA Programs

Central Michigan University, Doctor of Health Administration
The doctor of health administration degree offered by CMU's Herbert H. and Grace A. Dow College of Health Professions is designed to provide current health administration professionals with the theoretical knowledge, applied skills, and practical competence necessary to succeed as leaders in the HA field. The 63-credit hour program consists of 51 credit-hours of didactic coursework (15 online courses, six regionally-based 2 ½ day in-person seminars, and comprehensive essay exam) and 12 credit-hour dissertation on a specific area of health administration of the student's choice. The program is offered in three-year and five-year courses of study presented in cohorts in which students proceed through a set sequence of courses with the same group of students from beginning to end. Cohorts begin once a year in August.
Admission is competitive and requires applicants to hold a master's degree in healthcare administration or related major, or a medical-related professional degree (MD, DDS, DDO). The current tuition rate is $850 per credit-hour.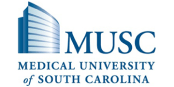 Medical University of South Carolina, Doctor of Health Administration
The Medical University of South Carolina's 54-credit doctor of health administration degree program is presented in a blended format combining online asynchronous didactic coursework with one weekend face-to-face session each semester on MUSC's Charleston campus. Year two includes a week-long intensive policy trip to Washington, D.C. Health administrator and health professional tracks are available for students coming into the program from different professional backgrounds. These tracks determine the student's first semester coursework. Following the first semester, the curriculum aligns for all cohort members.
Admission into the health administrator track requires a previously earned master's or professional degree in healthcare administration or a closely related major and significant experience in a management or policy position in healthcare. Health professional track applicants must possess a professional or master's degree in a clinical healthcare or related major and significant experience in clinical care or another healthcare workforce-related field. Tuition costs are currently $10,290 per semester for both in-state and out-of-state residents.

University of Mississippi, Doctor of Health Administration
The UMC School of Health Related Profession's doctor of health administration degree prepares health professionals for leadership and upper-level managerial positions in administration, education, and clinical areas of the healthcare field. The cohort-formatted program's three-year (nine-semester) curriculum features primarily online didactic coursework along with a few mandatory face-to-face sessions on UMC's Jackson campus. Applicants to the program must possess either a master' or professional doctorate degree in a healthcare-related major, or master's degree in another major along with at least five years of experience in healthcare policy, healthcare management, a clinical medical specialty, or closely-related field. Additional application requirements include GRE test scores, current resume or CV, and an essay describing previous professional experience in healthcare. Admissions are limited to 10 to 15 students annually. The current estimated total program tuition cost for both in-state and out-of-state residents is $40,344.
Benefits of the Online Doctorate in Healthcare Administration
Convenience and affordability are the big buzz words when talking about distance learning, but what exactly are we talking about? There's certainly the time and costs saved in not having to travel to and from a physical campus every day to attend classes, but there's much more to it than that. Here are two specific benefits you'll enjoy by earning your healthcare administration doctorate online:
Coursework you can fit into your busy schedule:
All online DHA degree programs feature all or most of its coursework in an asynchronous format. That means you'll be able to access course materials (lectures, reading and writing assignments, quizzes, etc.) at any time you like. You won't need to log in to your computer and participate in class activities at specific dates and times. This is, of course, enormously beneficial to any student with busy family and work commitments.
Flexible degree completion times:
Online DHA degree programs are sometimes presented with flexible study options. Additionally, DHA programs, like those for other doctorate degrees, are split into two phases: pre-candidacy and candidacy. The time permitted for completion of the candidacy phase can vary substantially from school to school. The combination of flexible study options and generous overall degree completion times (in a few cases much as five years or more) offers students plenty of leeway for completing all degree requirements.
Types of Online Doctorates in Healthcare Administration
The trick to finding the online program with features that best meet your preferences and requirements is to consider your learning style and life requirements. There are two basic types of online DHA program formats to choose from.
Fully online
A few online DHA programs are presented fully online, meaning that students complete all of their degree requirements in the virtual environment. Fully online programs also provide online access to crucial support services such as reference materials and academic and career counseling. While some DHA programs bill themselves as "fully online" they may not be. When a program is described as fully online or 100% online, it may just mean that the program's coursework is offered entirely online. These programs typically also include some in-person components such as on-campus orientations or residencies and face-to-face dissertation defenses.
Partially online
Partially online healthcare administration doctorate programs are more common, with courses that are presented in either entirely online or hybrid (combining online and in-person components) formats. Partially online DHA programs also typically include in-person orientation meetings, residencies, and dissertation presentations and defenses.
Timeline: Online Healthcare Administration Doctorate
Completion times for healthcare administration doctorate programs can vary substantially, which is by design. Colleges and universities realize that the vast majority of their DHA students are working professionals who will continue their full-time employment throughout the period of their degree studies. Study flexibility is a major concern. Most online DHA programs are designed to be completed in as few as three years, but some offer alternate program sequences, typically five years in length. How long it will take you to earn your DHA degree depends on a whole slew of factors, including your previous degree's major subject, the number of previously-earned credits allowed to be transferred in, and the research and writing time needed to complete your dissertation.
The following timeline details the year-by-year progression that most students will follow in completing their online DHA degree courses of study.
Whether you've chosen a three-year or five-year course of study, the first year of your DHA program curriculum will be devoted entirely to core coursework in subjects like healthcare leadership, health policy and regulation, research methods, financial management, current topics in healthcare, and similar topics. Some programs will include an elective or two as well.
The only real difference between three-year and five-year curriculums in year one is academic course load, with the course loads for five-year students essentially half that of their three-year counterparts. While most, if not all, coursework will be completed online, some programs may include on-campus orientations to meet program faculty and fellow members of your cohort or in-person seminars.
Year two of your DHS studies will be very similar to year one, with a continuation of pre-candidacy core and elective coursework building on the foundational knowledge and skills gained in year one. Students in three-year courses of study will encounter advanced courses in applied research, health systems, health care informatics, communications, change management, and negotiation. Three-year students will finish the academic term by taking and passing comprehensive exams that mark the transition from pre-candidacy to the candidacy phase.
Five-year students will continue with courses similar to those that three-year students complete in the second half of their first year. Courses of study are filled out with additional specialization-focused courses and electives.
For DHA students in three-year courses of study, year three is entirely taken up with the dissertation or doctoral project process. Following admission to candidacy, students will meet with their advisor or dissertation committee for discussion and approval of their dissertation/doctoral project subject. This is followed by the hard work of the researching and writing of the dissertation/project. The year culminates with the dissertation/project presentation and defense and graduation.
Five-year students will continue on into the third year of their coursework.
Those in five-year courses of study will spend year four completing their final courses and passing their comprehensive exams allowing them to move on to their year-five candidacy phase. Year five is identical to three-year students' third year. As discussed above, some degree candidates may be able to continue past year five to complete their dissertation or doctoral project.
DHA Learning Outcomes
Student learning outcome statements for a degree program are a listed set of descriptions of the knowledge, skills, competencies, and attitudes that every student should possess upon successful completion of the program. These statements are typically required by accrediting agencies as part of the programmatic accreditation process. Every DHA program you consider will have its own set of stated learning outcomes, which you'll likely find them listed on the program's website. Here are five learning outcomes similar to ones you'll likely encounter in your healthcare administration doctorate program.
Research
Demonstrate effective research and related skills, including identifying and evaluating areas in need of research; formulating research problems; designing and conducting research studies; analyzing data; identifying prior research on the current subject and integrating it into the present analysis; and summarizing, presenting, discussing, and defending research results and conclusions.
Leadership
Demonstrate an understanding of the structure and culture of the health care organization, and how that understanding both impacts and influences leadership. Demonstrate the ability to communicate effectively as both a health care professional and scholar. Demonstrate the ability to develop a strategic vision, identify priorities, and develop directional strategies to meet organizational goals.
General and specific knowledge, competencies, and problem-solving skills
Show advanced knowledge and competencies in the general field of healthcare administration, as well as at least one specialized area within the larger field. Demonstrate the ability to apply problem-solving skills at all levels (department, organization, community, regional, national) of healthcare administration practice.
Business
A proven understanding of general economic principles and realities and the roles that financial planning and decision-making play in effective organizational management. Specific areas include economic and organizational structure analysis, quality assessment, risk management, accounting principles, mergers and acquisitions, and an understanding of the roles stockholders play in formulating healthcare administration strategies.
Ethics and professionalism
Demonstrate the application of ethical and legal principles to healthcare administration practices and communication. Ability to model healthcare professionalism and ethical leadership through social accountability, community stewardship, and other sound professional practices and behaviors. Promote positive social change within the healthcare organization, its surrounding communities, and the healthcare administration profession itself.
Specialization in Healthcare Administration: Tailoring Your Degree Program to Best Suit Your Needs
Specializations in a healthcare administration doctorate program allow students to focus their studies in an area of the healthcare administration field that is of most interest to them. Some students may find that choosing a specialization or concentration gives them a professional leg up over other DHA graduates in the job market. Most online DHA programs today are offered without specialization options, but there are a few exceptions. Keep in mind that whether or not the DHA program you select offers specialization or concentrations tracks, you can tailor your studies to a specialized area of healthcare administration through your choice of elective courses.
Health Care Leadership
This specialization is for students seeking to develop advanced research and leadership competencies in healthcare administration through the study of a broad range of topics, such as contemporary leadership roles and strategic vision and planning.
Health Care Quality and Analytics
Students in this specialization are interested in improving health care quality through the collection and analysis of data in the areas of claims and cost, clinical research, pharmaceutical research and development, and patient behavior.
Health Care Policy and Advocacy
For students interested in the big picture of healthcare administration. Students in this specialization focus on a global perspective in advancing health policy and advocacy, as well as promoting community-level health outcomes.
General Health Administration
This specialization is for DHA students interested in promoting improved quality in healthcare delivery systems through top administration positions at large, complex facilities and organizations.
Accreditation & Online Doctorates in Healthcare Administration
The most important rule to follow in your online degree search is to consider properly accredited doctorate in healthcare administration programs only. Accreditation in regard to postsecondary education is the process of recognizing and validating the quality of academic activities by colleges and universities. There are two fundamental types of accreditation associated with U.S. colleges and universities: institutional and programmatic. Institutional accreditation has to do with validating of the entire college or university as an institution, indicating that any and all departments and programs within it contribute to meeting all of its academic objectives. Institutional accreditation of U.S. colleges and universities is administered by several Department of Education-recognized national and regional accrediting agencies.
Programmatic accreditation concerns the validation of degree programs themselves. Although healthcare administration master's programs offered by U.S. schools are accredited by the Commission on Accreditation of Healthcare Management (CAHME), there are currently no agencies providing programmatic accreditation to DHA or other doctoral-level healthcare administration related degrees in the U.S.
Applying to a Healthcare Administration Doctorate Online Program
You can't start working on your online doctorate in healthcare administration until first being admitted to a degree program. Each school has its own set of requirements for admission, but you'll find that a lot of similarities in admissions requirements for DHA programs. Below are three important requirements for admission identical or similar to those for most online DHA programs:
Master's or professional degree
Most programs require applicants to hold either a master's degree in healthcare administration or closely-related subject like business administration, public health, nursing management, or a professional degree (e.g., M.D., DDS, O.D.). Some programs will also consider on a case-by-case basis applicants with a master's degree in another area of study. GPAs for previous graduate-level coursework are also considered in the admissions selection process. In some cases, GRE or GMAT test scores may additionally be required.
Previous professional experience
Applicants to many DHA programs must demonstrate professional competence through previous mid- to senior-level experience in healthcare administration or a closely-related field such as health management, nursing management, clinical leadership, and/or health or public health policy. This is especially true for applicants whose previously-earned graduate degree is in a non-HA or related major. The requirement of a minimum of three to five years of professional experience is not uncommon.
Letters of recommendation, personal statement and resume or CV
In addition to the requirements described above, most online healthcare administration doctorate programs require applicants to submit one or more of the following:
A copy of their current resume or CV.
Letters of recommendation from professors or professional supervisors or colleagues who can speak to the applicant's potential to do doctoral-level work.
A personal written statement attesting to the applicant's previous experience in healthcare and professional goals.
Tuition & Fees
Paying for college is a major concern, and the cost of a specific DHA degree program will likely be a determining factor in your choice of program. As you begin your program search, keep in mind that total costs can vary significantly from program to program depending on any number of factors, including total program length, total credits required (factoring in any previously-earned credits you can transfer in), and whether the college offering the program is a public or private institution.
To give you an idea of the costs you'll take on earning your healthcare administration doctorate, we've put together the following table listing the current tuition prices for four online DHA programs. Bear in mind that your total price tag will be higher and include such things as additional fees and charges, books and supplies, computers and internet access fees, etc. Remember, though, that by pursuing your degree online you'll save money on campus-specific items like transportation and parking costs.
NOTE:
There's one other very important thing to keep in mind regarding costs. Many colleges and universities offer their DHA students access to in-house financial assistance opportunities that reduce program costs. These may include program-specific scholarships and grants, enrollment discounts, tuition discounts for veterans, cost reductions for full-time students, and others. To find out if cost-reducing opportunities are available for your DHA program, contact your school's financial aid office. For more on other scholarships opportunities and how to apply for them, check out our scholarship and grant guide.
Salaries for Healthcare Administration Doctorates
According to current figures provided by Payscale.com, the estimated national average salary for professionals with a doctorate in healthcare administration is $92,500. By comparison, PayScale's current estimated national average salary for master of health administration (MHA) degree holders is approximately $77,000.
What any individual actually earns will depend on a number of variables, such as specific job title, geographic location, and level of work experience. The following table offers recent salary figures from PayScale for three job titles often occupied by health care administration doctorate holders. The figures do not include additional payment sources like profit sharing programs and bonuses.
| Job Title | Median Earnings | 90th Percentile Earnings |
| --- | --- | --- |
| Practice Administrator | $74,000 | $111,000 |
| Government Program Manager | $91,000 | $144,000 |
| Consulting Director | $150,000 | $201,000 |