Written By
Bernard Grant, PhD
Meet the Expert
Wesley Wade
Last updated
Oct 12, 2023
About 11.9% of post-baccalaureate students have a disability, according to the National Center for Education Statistics. The scope of these disabilities is wide-ranging and includes mental health conditions, physical and learning disabilities, chronic illness, and visual or hearing challenges.
In the United States, people with disabilities represent one of the largest minority groups. But disenfranchisement and lack of access aren't foregone conclusions in college settings; in fact, that's why we've created this guide — to connect PhD students who have disabilities with information about your legal rights, financial aid opportunities and common accommodations that are available to you in your doctoral program.
Some PhD students are able to complete their degrees with the support offered by resources like assistive technology, more time to complete assignments and exams, sign language interpretation, and specialized apps. But many students with disabilities don't know what kind of accommodations they'll need until they encounter barriers they hadn't anticipated.
Keep scrolling to learn valuable insights for PhD students with disabilities.
What Does Disability Mean in Terms of Your PhD Studies
Despite existing legislation that protects students with disabilities against discrimination — in part by granting access to accommodations — accessibility remains a pressing issue for many students. Often, knowledge is the biggest obstacle, as students may struggle to access necessary resources because they don't know what's available to them.
Social dynamics also pose a threat to PhD students with disabilities. Although anyone can become disabled at any point in their lives — and most people experience some form of disability at some point — discrimination against disabled students does happen. One common form of discrimination is ableism, a practice that devalues people with physical, intellectual, or psychiatric disabilities and often rests on the assumption that disabled people need to be "fixed."
Along with providing accommodations and other supports, universities and PhD programs are legally responsible for creating inclusive environments that recognize students with disabilities as valuable and deserving of equal access to educational opportunities.
How Does Self-Identification Help Get You the Services You Need
Disability is a complex construct with many definitions. The Centers for Disease Control and Prevention (CDC) defines disability as any limitation in the body or mind that results in impairment, activity limitation, or participation restrictions.
But the Americans with Disabilities Act (ADA), the law governing disability rights, defines it like this:
"An individual with a disability is defined by the ADA as a person who has a physical or mental impairment that substantially limits one or more major life activities, a person who has a history or record of such an impairment, or a person who is perceived by others as having such an impairment. "
The Social Security Administration (SSA) defines disability in adults as an inability to engage in substantial gainful activity (SGA) because of medically determined impairments, whether physical or psychological.
These legal and medical definitions differ from how disabled people who follow the social model of disability. Under the social model, disability is a mismatch between a person's body or mind (body-mind) and their environment. So, disabled people are enabled when their environment changes to accommodate them.
Therefore, the ADA's definition is a sweeping one, including protections for people who are perceived as disabled.
Regardless of the definition, the decision to self-identify in college or your profession is a personal one. However, self-identification can protect you when facing the rigors of high-pressure academic environments like your PhD program. You are your best advocate, so equip yourself with the available resources; you'll be equipped to navigate ableist systems and advocate for yourself effectively, dismantling barriers. Begin by checking out "Knowing Your Rights," just below.
Financial Aid is Available to Help Fund Your Studies
PhD students with disabilities can receive benefits from federal, state, and private financial aid, such as the Social Security Disability Insurance (SSDI). If your disability qualifies, the Social Security Administration may pay you benefits to cover educational expenses.
You also can apply for Supplemental Security Income (SSI) to receive monthly benefits, as well as healthcare services and food assistance. Keep in mind that these benefits carry income limitations, so it's important to learn program restrictions.
State vocational rehabilitation agencies, available in all 50 states, are another vital resource for PhD students with disabilities. Services include education funding, assistive technology, and career counseling. And don't forget to research private and publicly funded scholarship and grant opportunities specifically for PhD students with disabilities.
Knowing Your Rights
Federal disability laws and programs protect PhD students with disabilities against discrimination. Therefore, it's important to become fully informed about these laws so you can become an effective self-advocate. By knowing your rights, you can assert yourself to ensure you receive appropriate support and are treated fairly and equitably. Below you'll find an overview of these laws, which protect you in online education settings, as well as on campus.
Section 504
Section 504 of the Rehabilitation Act of 1973 sets rules and regulations that enable students with disabilities to participate in any program or activity funded by federal entities, including universities. The law prohibits discrimination on the basis of disability and requires universities to provide reasonable accommodations to increase academic access.
Section 504 prohibits universities from limiting the number of disabled students they admit and from excluding students from any course or activity based on a disability. Higher education institutions are also prohibited from asking about a student's disabilities before admission.
You can see how this law enables students with disabilities to participate in and benefit from all college programs, largely by offering protections against attitudinal, policy, communication and policy barriers.
Americans with Disabilities Act
The Americans with Disabilities Act (ADA) of 1990 protects people with disabilities against discrimination in public life. This includes employment, state and local government programs, and services such as higher education.
Many PhD students are uniquely positioned to act as both employees and students of their universities. The ADA protects these students against discrimination in both roles.
The ADA requires universities to provide reasonable accommodations, giving PhD students who are disabled equal access to educational activities and resources. In graduate school, you can use the ADA, along with Section 504, to advocate for yourself to deter discrimination.
Assistive Technology Act
The Assistive Technology Act (ATA) gives funding to states, helping PhD students with disabilities to acquire assistive technology devices and services. Assistive technology can be low-tech, mid-tech, or high-tech and includes software, equipment, and devices that allow access to full participation in daily activities.
For PhD students with disabilities, the ATA can provide funding for assistive technology that enables students to complete academic tasks like notetaking, writing, and conducting research. PhD students can use this funding to purchase speech-to-text software, specialized keyboards, Braille printers, and a variety of other tools that help disabled PhD students reach their academic goals.
Types of Accommodations Available for Doctoral Students
One aspect of choosing the right PhD program as a disabled student involves finding programs that offer accommodations that suit your specific needs. While every person's needs are unique — and you might not even know what accommodations, if any, you'll need until you're well into your program — it helps to learn about common accommodations you can request while completing your PhD studies.
Alternative & Assistive Technology
Alternative and assistive technology refers to a broad range of software and devices that help students with disabilities complete tasks that are otherwise too difficult or impossible given access barriers. Examples include Braille displays, hearing aids, and speech-to-text software.
While alternative technology offers students with disabilities ways to interact with their environment, assistive technology refers to tools and devices that make it easier for students to perform certain tasks, like writing, math, or simply reading university websites, assignments, and completing coursework.
Exams
Exams are pivotal in a PhD student's academic journey, representing the challenging opportunity to demonstrate mastery of your specializations. While these tests can cause stress in any student, for many students with disabilities, exams can feel especially difficult or impossible due to the barriers that inhibit learning.
With the right strategies and tools, such as assistive technology and flexible-testing policy accommodations, however, PhD students with disabilities can overcome potential barriers to performance.
Accommodations are not special treatment. These reasonable adjustments are legally mandated to promote equity, giving students with disabilities equal access to doctoral education.
Classroom
As academic landscapes slowly become more inclusive to students with disabilities, PhD students can access a range of classroom accommodations. These include note-takers, sign language interpreters, accessible classroom spaces, and extended time for assignments and tests.
Accommodations like these levels of traditional learning environments by reducing barriers potentially experienced by students with disabilities, enabling them to achieve their academic goals.
Please note, however, that accommodations differ between institutions. For example, some campuses have large disability services offices housing abundant staff and offering a wide variety of accommodations. So, it's important to research each institution before applying, keeping in mind that universities have the legal responsibility to prioritize accessibility and advocate for the needs of every student.
Communications
Effective communication is essential for academic success, so universities offer a variety of accommodations to support this necessity. Some students, for example, need sign language interpreters or captioning services to understand their professors. Other students benefit from assistive technology like screen readers, voice recognition software, or augmentative/alternative communication (AAC) apps and devices.
Universities can provide accommodations for meetings as well, like a quiet room or virtual meetings with Communication Access Realtime Translation (CART) services.
For many students, communication accommodations translate to academic and professional success.
Online Learning Platforms
The adoption of online learning platforms accelerated during the COVID pandemic, as universities had to quickly adapt to ensure their PhD programs were accessible to remote students — including those with disabilities.
Accommodations for learning platforms such as learning management systems (LMS) tend to include transcripts and closed captioning for pre-recorded lectures, sign language interpretation for live sessions, and PDFs formatted for screen readers.
Universities commonly provide technical support lines and workshops to teach students how to access and navigate online learning platforms with ease.
Other Accommodations
In addition to accommodations for classrooms, communication, and learning platforms, Universities offer accessible housing and transportation options to help PhD students with physical disabilities navigate campus or attend on- and off-campus meetings and events.
Alternatively, disability or accessibility services can also help you create flexible schedules to manage your unique non-physical needs. Mental health support in the form of psychotherapy or group counseling services is also available at most universities, often called Counseling and Psychological Services (CAPS).
Range of Students with Disabilities
Disabilities can range from physical impairments to cognitive or learning disabilities. Each comes with its own challenges, requiring tailored learning strategies, technology, and resources — so that students with disabilities can fully participate in higher education. This section will explore some of these challenges and discuss the specific methods and resources available to support PhD students with disabilities in achieving their doctoral goals.
Expert Interview: Attending PhD School with a Disability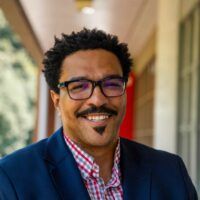 Wesley Wade is a PhD candidate in the counseling and counselor education program at North Carolina State University, where he researches the associations between neurodivergence, career development, and components of racial identity. Wade is a licensed clinical mental health counselor, clinical addiction specialist, and nationally certified counselor who collaborates as a neurodiversity consultant with various organizations internationally. He's cultivated career programming in higher education through the state of North Carolina for neurodivergent students as well as programs that center on the experiences of undergraduate Black men attending primarily white institutions (PWIs).
What advice do you have for other PhD students with disabilities seeking resources and support?
Don't do this alone; understand your strengths, and be brutally honest with yourself about how much work you can stack within a week and still have time for the things you love. Not going at this by yourself goes beyond keeping in touch with close friends and family, but just to be clear, keeping in good fellowship with the people you know, trust, and love is incredibly important.
Going beyond that, I strongly encourage students to register with the disability/accessibility office on your campus. You might not need it, but if something does happen, you will be glad you already had it set up.
Also, making a few new friends in your program helps. Being in a PhD program is a rare experience. So get to know some of the people who are trekking their way through the program with you. Share ideas and visions for the future, tell stories over a good meal, vent about frustrating logistics —whatever.
Even if you are more reserved, I still strongly encourage you to give yourself a gentle nudge and engage. This is a dynamic of social capital, a dynamic important for us as we navigate our careers, but more importantly, it is community building — and we all need community.
Have you encountered any negative attitudes or stigma from others in academia regarding your disability? If so, how have you dealt with it?
Yes. Part of the strengths in my presentation of ADHD and dyslexia is an enhanced ability to read patterns, particularly interpersonal patterns. In other words: I can read people really well.
So, it was incredibly clear to me when some professors were dismissive of my requests (that were accompanied by a letter from the disability resource office). Sometimes it was a hunch; sometimes, it was without a doubt. Either way, it sent me into the "What is it?" game where I tried to decide if it was racism, ableism, or both and then communicated my way through it. (It's usually both, in my experience!)
This might feel defeatist, but I dealt with these situations proactively by assuming I was going to face some form of discrimination in my PhD program more than once. In addition to the research, I had my experience from my master's program as supporting evidence. Knowing that and deciding otherwise feels painfully illogical to me.
Plus, when you have depression and anxiety (as a lot of disabled folks do), being brutally honest like that helps me soften the blow for when racist and ableist incidents do occur.
Beginning each semester with this assumption allows me to build up my support systems, i.e., register with the disability office; identify who the go-to staff and faculty are for when an issue needs to be escalated; re-connect with my friends in the program to see how they are doing, and to set up an informal check-in cadence; remind myself to track issues in writing in case I need supporting documentation; and more.
That's a lot on top of everything else you need for a PhD program, and that is an example of a barrier that can prevent students with disabilities from completing PhD programs. Barriers like this create "interlocking systems" that collectively suppress our attempts to achieve our goals.
Examples of this dynamic could be getting caught between two faculty members who do not get along, having to balance a full-time job while being enrolled in a PhD program because you have a higher cost of living due to healthcare-related needs and having a faculty member call you "unreliable" because you had to reschedule a meeting with them due to a critically needed and hard-to-schedule doctor's appointment becoming available.
All those things can happen at once, and all of those things happening at once can trigger anxiety and depression, which make it incredibly difficult to maintain our routines. And for me, like many, if not most neurodivergent folks, my routines are not just nice-to-have productivity hacks but rather necessities for healthy survival.
Imagine having to explain all of that when asking for an additional week or two on an assignment.
Doing all this intentional, proactive work at the beginning of the semester is essentially part of creating your own safety and wellness plan. When I did this, it allowed me to appropriately address each incident when it happened and in a unique manner because I knew my resources. (I also did this for incidents years prior during my master's program.) Having worked in student affairs as a career counselor granted me access to a behind-the-scenes view of how things operated on campus, and one thing I observed too often was students who were more or less forced into silence when these disruptive and discriminatory incidents with faculty happened. The behind-the-scenes view also showed me that some things were more of an illusion of authority a lot more frequently than I assumed. So I decided that I would not be forced into silence because that would prevent me from finishing.
It is important to draw a healthy line here between things which are "good to know" versus those designed to "scare someone away." Don't be scared or intimidated by this message. Every program is different. The most important point I want to convey is that community is vital. Whether faculty (because there are some absolutely amazing faculty out there), staff, or fellow students, having a few people from your program in your community will help you participate in a much more fulfilling, supportive, and transformational experience.
What changes would you like to see in academia to make it more accessible and supportive for PhD students with disabilities?
PhD programs, especially in social sciences, can have a huge degree of variation in terms of important timelines, comprehensive examination and dissertation logistics, etc. And this is understandable more often than not. However, rigorous does not equal inaccessible. When PhD programs are inaccessible, a great injustice is done to disabled individuals and society as a whole. All areas of education, including PhD programs, need to be accessible. Society has a lot of big issues to address and resolve, and we need everyone.
How has your disability influenced your research topic or area of study?
It has helped me understand my racial identity more, which has, in turn, shaped my area of interest in my studies. There is a disingenuous framing of a lot of contemporary research as being "me search." The idea is people like me are just researching ourselves, trying to understand and explain dynamics which have never been fully observed. Which seems like a textbook example of cognitive dissonance to me because isn't that what research is: the creation of new knowledge?

I see so many nuances for Black youth and adults with disabilities. Now I want to examine these nuances and create interventions, programs, writings, curriculum, etc. Before I started my PhD program, this wasn't the case. The program seemed to be more of a professional development milestone, but it ended up being more transformational. It helped me understand a side of myself I did not fully acknowledge previously, which ignited an interest in what I call "equity work" in areas like neurodiversity, DEI, research, etc.